Game 2s: Scrimmage Game
Team holds their own as the club shows-off their new recruits
By Andrew Wolan / WRCS
Game date: July 8, 2010
Score Box
| | | | | | | | | | | | |
| --- | --- | --- | --- | --- | --- | --- | --- | --- | --- | --- | --- |
| Verdasys | 1 | 0 | 0 | 2 | X | X | X | | 3 | 9 | 2 |
| Tufts Health Plan Corp. | 4 | 0 | 0 | X | X | X | X | | 4 | X | 0 |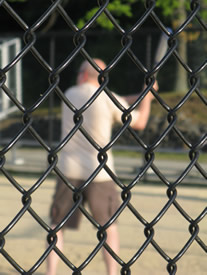 Artistic photo of Misha at bat. (Wolan)
Introduction
With Verdasys unable to field a full team by game time, the team was looking at forfeiting their second game of the season. But after some negotiations, Tufts agreed to let Verdasys take a 9-0 loss instead. In exchange, Verdasys agreed to play Tufts in a non-binding scrimmage game so long as Tufts allows Verdasys to borrow a few players.
Roster Round-up
Making their debut with the team today are Theo Emmet, Kristen Sinitski, and Pete Vallieres. Theo, who was a late off-season acquisition, has experience playing baseball at the Babe Ruth level and had played cricket in recent years. This will be his first baseball or softball game since when he was 12. As for Kristen and Pete, both are last second walk-ons stemming from negations led by Elliott Eno.
Also making their start for the team were Emily and Joe from Tufts. Both players are on loan to allow Verdasys to have a total of 9 players. Misha Efimov would later show-up to give the roster a total of 10 players.
Game Summary
Verdasys would get to work early as loaned player Joe kicks off the game with a triple. Recent off-season acquisition Theo Emmett would bat him home with an RBI single, his first career RBI with Verdasys. Tufts would respond with 4 runs in their half of the first to take a 4-1 lead.
Unlucky hitting kept Verdasys off the board in the second and third innings, but some good fielding by Verdasys kept Tufts off the boards as well. This included escaping a bases loaded situation in the second.
In the fourth inning, both Ryan Grimard and recent recruit Pete Vallieres would hit back-to-back ITP HRs to cut the lead 4-3. The HR is Grimard's fifth career HR with the Verdasys while it was Vallieres' first.
Though the fielding unit had kept Tufts off the board for two innings, they knew that Tufts' offense was overdue for a big inning. So to speed-up the inevitable, (and because people were losing interest in the expedition game), the two teams agreed to end the game early.
Post-Game Action
After the game coach Wolan took questions from the media:
(Q) What was the goal for today's game?
(Wolan) Our goal today was to avoid a forfeit at any cost. We simply cannot afford a second forfeit this early in season. If we play and go down by the mercy rule early, then that would have been totally fine by us. Just no second forfeit.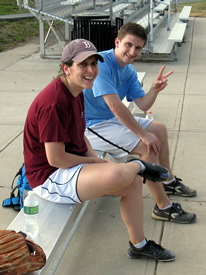 Team silent on signing matters surrending new recruits Pete Vallieres and Kristen Sinitski. (Wolan)
(Q) What were your thoughts about Theo, the team's offseason acquisition?
(Wolan) Fielding, I think Theo did a great job. I was delighted with what I saw. As for base running, he seemed a bit rusty. We'll work through it.
(Q) What about Kristen and Pete? Is the team in talks in signing them to the team?
(Wolan) Yes. And I can't comment on that matter any further at this time.
After the game in the team's club-house, Coach Wolan was reported to have said "we need to get our act together or this will be a short season.". However, others report seeing the team skipper walking around in a camisole (straitjacket).
Big Bats
Grimard: 2 for 2 (ITP HR) with an RBI and one run scored.
Pete V.: 1 for 2 (ITP HR) with an RBI and one run scored. Becomes the third player in club history to hit a HR in their first game with the team. (Grimard and A-WOL are the other two)
Web Gems:
Tuffs: double-play - after catching a pop-up near 3B, Theo was forced out at 1B after he failed to return to the bag. (1st)
Theo: threw out a runner at first after fielding a ball hit into the grass in shallow left center field. (3rd)
A-WOL Watch
0 for 2 (LF fly, pop-up to short.)
Fielding (SS). One touch (6-3 force-out of a grounder to short. One leaping attempt at soft line-drive short.)
While pitching, fell backwards to avoid a Grimard line-drive back to the pitcher. Was doing a back-step after each pitch anyways. Must have tripped over the pitching rubber.
Game 2 | Game Photos | Stats from the Game | Scorebook
Andy Wolan is a reporter and photographer for Verdasys Softball. This story was not subject to the approval of the league or its clubs.