Game 3: Against All Odds
Undermanned, team attempts to sneak-in an unlikely win
By Andrew Wolan / WRCS
Game date: July 12, 2010
Score Box
| | | | | | | | | | | | |
| --- | --- | --- | --- | --- | --- | --- | --- | --- | --- | --- | --- |
| Up To Date | 4 | 0 | 2 | 1 | 6 | 1 | 14 | | 28 | X | 1 |
| Verdasys | 3 | 6 | 0 | 4 | 3 | 0 | 0 | | 16 | 29 | 0 |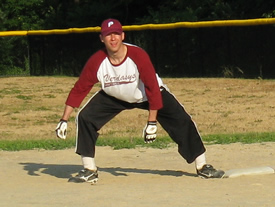 A-WOL looks on from first while Pete bats. (Wang)

Introduction<!br>

Whenever Up To Date (UTD) and Verdasys meet, a close match-up is sure to follow. That was the case at their last match-up, as the two teams ended a playoff game in a 12-all draw. But after an embarrassing forfeit of their rematch last season, followed by a forfeit and a "mercy rule" loss this season, Verdasys will be looking to redeem themselves by playing a quality seven inning game.

But if the team hopes to end the game strong they will need to overcome their continuing roster issues. By game time the team only had eight starting players; two short of the needed ten. Will the time find extra players in time? Will the team be able to overcome being shorthanded, or will the team go down by the mercy rule once again? And will Usha be able to overcome her computer navigation issues and to make it to the ballpark in time to save the team?

Roster Issues<!br>

At game time, Coach Wolan was hoping that Usha, a stand-by player, would be able to attend and round-out the team's roster with 9 players. Unfortunately a communication issue prevented Usha from learning that there was a need for her to attend.

Being a player short, Coach Wolan spoke to the Up To Date bench and asked if they would agree to fielding an offensive catcher. This catcher would only catch pitches and would not be required to field any balls or help make plays at home plate. Their bench agreed, giving Verdasys 9 fielders and a fighting chance. And thus, Game 3 was on!

Game Summary<!br>

Top of one, Up To Date would spare Verdasys no mercy as they scored 4 runs to open the game. With a strong offence, it appeared that Up To Date would cruise to an easy win. But Verdasys would have something to say about that.
| | |
| --- | --- |
| C | UTD |
| 1B | Aleksey |
| 2B | Colby |
| SS | A-WOL |
| 3B | Pete |
| FIF | Vacant |
| LF | Elliot |
| CF | Theo |
| RF | Kristen |
| FOF | Lijun |
Eno and Theo would lead things off in the first with back-to-back singles. Next up was Colby, who drove them in with a 2-RBI infield double, her first double of the season. Colby would later score on a Pete RBI single to make 4-3 Up To Date. It was clear that the fielding unit for UTD was a bit rusty early on as they had trouble converting routine plays for outs.

Top of two, Verdasys would show how defense is played with some terrific fielding of their own. A-WOL made a terrific snag a hard line line-drive at short while Colby made a back-handed running grab of a pop-up near the mound. These plays help keep Up To Date off the board.

In the bottom half of the inning, Verdasys would again exploit the rusty offence of their opponent, scoring 6 times to take a 9-4 lead. The inning was capped by 2-RBI double hit by Pete, his first of the season. Kristen would join the action by batting in her first RBI as a member of Verdasys Softball. Aleksey and Lijun batted-in and scored their first runs of the season as well.

Top of three, UTD would score two to make it 9-6. The scoring was lead by a lead-off solo ITP HR. Fielding wise, Theo and Aleksey combined to make a controversial play at first base for an out. With Theo playing in shallow center field, a batter hit a grounder up the middle into center field. Theo fielded the ball and fired a strike to first. The ball was a bit high, so Aleksey had to leap up to make the catch. As he landed, he stepped on the bag a fraction of second before the base runner did for the out.

"Theo, I thought you said he hadn't played baseball in years" commented A-WOL after the play. "Genesis Does"<!br>

After going scoreless due to fly balls in the third, the team would string together some hits to stretch on their dwindling lead in their bottom half of the fourth. "Kung FU" Lijun lead things off by living up to his name with a mean ground through the infield for a single. After Elliott reaches on a fielder's choice, he would score on a Theo RBI double, his first double of the season. Colby would single to put runners on the corners for a colorful at-bat by A-WOL.

Unable to find his regular "Black Magic" bat, A-WOL grabs a bat with "Genesis" written with large letters on the barrel. (Click here to see the bat.) The name conjures up memories of the SEGA Genesis game console, which leads A-WOL to sing the song "Genesis Does" during his at bat. (Click here to hear the song.) Perhaps it was a timely motivational tool, but what "A-WOL Does" is hit a blooper into shallow left field to drive in Theo, A-WOL's first RBI of the season with Verdasys. Pete caps the innings for what "Pete Does" is hit a 2-RBI double to drive-in Colby and A-WOL. 13-7 after four.

Unimpressed with A-WOL's musical number, Up To Date would rally for 6 runs in the fifth to tie the game at 13-all. Communication issues between A-WOL at short and the outfielders Elliott and Theo allowed some bloopers to land into shallow left field, giving UTP extra chances.

A-WOL did attempt to slow the action down. While addressing an equipment malfunction, A-WOL requested that the theme to Jeopardy be hummed. However, Colby was not impressed and the request was withdrawn.

"Kung Fu" Action<!br>

Bottom on five with two down and "Kung Fu" Lijun on first, Colby would sneak a base hit through the infield and into center field. With Lijun running on the play, and with the outfielders having a little trouble getting to the ball, Lijun was told to proceed to third. With the ball still not yet retrieved, and with Colby posing as if she was about to take second, Lijun was waved in. It was no contest as Lijun was successful in rounding the bases and scored to let Verdasys retake the lead.

Looking for a new ditty, A-WOL grabbed the "Black Magic" bat and starting singing the "It's Magic" song during his at bat. Perhaps it was magic, but A-WOL would connect for another base hit to keep the inning alive. Pete followed with a an RBI-single (his sixth of the day & tying a club record) into the outfield to bat-in Colby, while the speedy A-WOL snagged third on a late throw from the outfield. A-WOL would trot in on a Kristine RBI single to give Verdasys a 16-13 lead after five.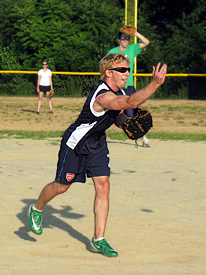 Elliott pitching. (Wang)

Seventh Inning<!br>

After an uneventful sixth inning, which saw the team spoil a double by Theo, the team still saw itself hanging onto a 16-14 lead going into the seventh inning. Whatever Verdasys was doing, they were doing it right. But their luck would run out.

In the top half of the seventh, the Verdasys fielding unit would collapse as Up To Date rallied for 14 runs. It would appear that being short-handed finally caught-up with the team as the lack of a catcher cost the two possible plays at the plate. Without any substitutes an exhausted infield struggled to make routine outs while.

"They were [also] hitting the ball into spots that we could not get to" comment Elliott. "I felt helpless because the ball was not being hit in my direction. I was praying for the ball to come to me so I could try and make a play."

The rally by UTD is the most Verdasys Softball has ever allowed in a single inning in franchise history. The old record was 11, which was reached 3 times in 2008. (Game 9 vs Tufts, Game 10 vs Thermo Fisher, and Game 8 vs "Newmark Knight Frank", which is also known as the Dominican All-star Team.)

As you can imagine, Verdasys had nothing left as they went scoreless in the bottom half of the seventh to end the game. As so despite being shorthanded, the Verdasys Softball team managed hang on to the lead through most of the game and played remarkably well. But it would be that short handedness that would cause the team to run out of gas in the end as they fell 28-16. The runs allowed is the most in franchise history, beating the old record of 26 against Tufts in Game 9 in the 2009 season.

Post Game Reaction<!br>

After the game, Aleksey, Elliott, A-WOL and Coach Wolan fielded questions:

(Q) What are your thoughts on the team's performance?


(Coach) I really don't have anything to complain about. Our team did the absolute best they could and managed to keep us in the game for 6 innings. Given all the problems we had thus far this season and how the team performed today, I am grateful.

(Q) What is your explanation regarding how the team collapsed in the team?


(Aleksey) I think it was clear that our team was tired. If we had more people we could have rotated players and allowed people to rest.

(Q) What about the continuing roster issues. Does the team have any plans to deal with it?


(Wolan) We need to recruit people, and fast. Otherwise we'll be forced to fold the team. We can't keep coming to games with only 7 or 8 people.

(Q) A question for A-WOL. A player or two from "UpToDate" bench were a little chirpy towards the end of the game.


(A-WOL) You mean after the comment I made about using a fast-pitch softball? I made that remark strictly as a safely concern, not to be smart. A fast-pitch softball is more tightly wound, which means that it will travel faster off the end of a bat. With speeds of up to 100 MPH, you need to be prepared to deal with hits like that to avoid injury. This is an amateur, slow-pitch, co-ed softball league and sometimes people are not paying attention to the action on the field. I didn't want to see someone get hurt.

Even then, the comments made by those on the "Up To Date" bench were good natured, not chirpy.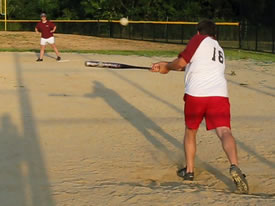 Aleksey was the intended target of some misinterpreted humor. (Wolan)
(Q) No, I was referring to comments you made after a female base running pulled a leg muscle running to first.
(A-WOL) You mean the play where I said how Aleksey made the "groin pull of game" after nearly doing the splits to get the force out at first? Let me just lay out these facts:
1) The comment was directed at Aleksey
2) I did not notice that the base runner had pulled her leg muscle until after the play, and
3) Last time I checked, women don't have groins.
It seems like those players misunderstood my comment, which is fine. But if they want to continue a grudge over a misunderstanding, then that's a shame on their part.
(Wolan) If anyone should feel ashamed, it's that guy in the seventh who claimed an inside-the-park HR on an overthrow to first base. First of all, such HRs are cheap and should not be congratulated, even at my lofty standards. If you want to take second on an overthrow, that's perfectly fine. But needlessly endangering people at third and home plate by challenging the defense to make a hard throw when the fielders are not prepared is reckless and a disrespectful. It's asking for someone to get hurt so that what, a guy who couldn't get the ball to hit grass can circle the bases? Give me a break.
After the press conference, it was revealed that David Ortiz had won the Home Run Derby at the 2010 All-Star Game. Yankees' owner George Steinbrenner would pass away that evening.
Big Bats
Colby: 5 for 6 (2B) with 4 runs and 3 RBIs.
Pete: 4 for 6 (2-2B) with one run and 6 RBIs. (Ties club record for most RBIs in a game. Record set by Grimard during the semi-final playoff game in 2008)
Lijun: 3 for 6 with 2 runs and 1 RBI.
Web Gems
A-WOL: Laser line-drive grab at short. (2nd)
Theo & Aleksey: 8-3 of a grounder hit into shallow center field, with Aleksey making a leaping catch to complete play. (3rd)
UTP: Laser line-drive grab at 3B to rob Aleksey of a hit. (3rd)
Lijun: fielded a grounder that went up the middle into shallow CF to limit batter to a single. (5th?)
UTP: Laser line-drive grab at 1B to rob Theo of a hit. (5th)
A-WOL: Laser line-drive grab at short to end inning. (7th)
A-WOL Watch:
Batting: 3 for 6 with 3 runs scored and 1 RBI. Made sloppy "upper-cut" swings leading to infield pop-flies. Struck-out in 6th due to low pitches being toss by Eno.
Fielding: Started short. Made 4 outs. Snagged two sharp line-drives at short for outs by reaching out to left instead of sitting directly behind ball. I'm not sure if there was time to position self in such a manner. Was so excited after second snag that I failed to realize there were 3 outs, but still tried to get a runner for being off 1B.
6-3 out in 3rd. In fourth, ran after but dropped short flair near third. Able to field ball and make 6-3 out. Dove to stop grounder hit toward right. Threw to first from the ground. Ball made it to first baseman but not nearly in time.
Game Photos | Stats from the Game | Scorebook
Andy Wolan is a reporter and photographer for Verdasys Softball. This story was not subject to the approval of the league or its clubs.