Game 4: Battle of South Pod III
Hall-way rivals battle for 2010 bragging rights
By Andrew Wolan / WRCS
Game date: July 22, 2010
Score Box
| | | | | | | | | | | | |
| --- | --- | --- | --- | --- | --- | --- | --- | --- | --- | --- | --- |
| Verdasys | 1 | 1 | 1 | 0 | 0 | 0 | 1 | | 4 | 17 | 0 |
| Racepoint Group | 4 | 0 | 2 | 3 | 3 | 3 | X | | 15 | X | 0 |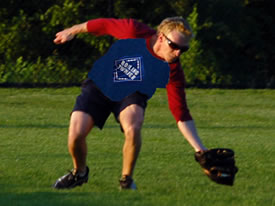 Artistic rendering of an RPG centerfielder making a sprinting shoe-string catch to end the game. (Moffitt / Wolan)
Introduction
It is an unusual coincidence that both Verdasys and Racepoint Group (RPG) have their headquarters located in the "Forefront Center" in Waltham. What is even more unusual is that their offices are located across the hall from one another in the "South Pod" section of the complex. Because of their close proximity to one another, their yearly contest has been dubbed "The Battle of South Pod" with the winner claiming the title of "South Pod Supremacy".
The first match between the two teams occurred in 2008, with RPG earning the title. Verdasys settled the score by taking the win in 2009. Now in their third annual meeting, both teams will be looking to break the tie and take home 2010 bragging rights.
But with the way things have been going this year, team Verdasys would feel content with ignoring glory and simply avoiding a forfeit.
As has been the case all season, roster issues continue to plague the team as the club struggles to find enough participants by game time. Game 4 would be no exception; before the game new recruit Kristen had called-in stating she would not show-up until at-least midway through the game. To compound matters, Coach Wolan will not be able to lead the team as he is in Delaware attending a 356er's ball game. This leaves the team with a roster of 8 players. Will the team be able to find a replacement or will they be forced to forfeit? Who will lead the team in Coach Wolan's absence? Will Usha overcome her navigational issues and come save the day?
Roster Round-up
Fortunately for the team, the drama with the roster would be resolved quickly. Despite being plagued by navigational issues over the past few weeks, Usha Shama was able to make her way to Middlebrook field to participate in today's game. Her participation rounds out the roster with 9 players. Though the team will be short a fielder, the team has a sufficient number of people to play until Kristen arrives.
Game Summary
Verdasys would get on the board to take a quick 1-0 lead in this game. Elliott Eno starts the game off with a lead-off single. He would score following back-to-back singles by Theo Emmett and Colby. But RPG would respond with 4 runs of their own to make it 4-1 after one.
Top of two with runners on the corners, Elliott Eno steps-up and delivers a single to drive in Pete Vallieres, who got on board with a lead-off single. Usha, who was on first following a fielder's choice, was so excited to advance to second that she mistakenly overstepped the bag and was tagged out. 4-2 RPG middle of the second. The score would remain that way through the second thanks to the Verdasys outfield. As the meat of the RPG line-up came to the plate, Verdasys would respond to their threat with outfield catches by Smith, Emmett and Eno for a 1-2-3 inning.
| | |
| --- | --- |
| C | Bhavani |
| 1B | Pete |
| 2B | Colby |
| SS | Steven |
| 3B | Lijun |
| FIF | Usha / Kristen |
| LF | Elliott |
| CF | Ron |
| RF | Theo |
Verdasys would threaten in third. Top of 3, Colby leads off with a single, the third consecutive lead-off hit for Verdasys. Ron Smith followed with a double to put runners on second and third for Bergstein, who hits into a sacrifice RBI at first to drive in Colby. Bhavani would follow-up with a base-hit to put runners on the corners. But that would be all the damage the team would do and Pete and Lijun ended the inning uneventfully. RPG would score 2 runs to make it 6-3 RPG after 3.
Usha Scare Maneuver
The bottom of the fourth inning would yield a memorable play known as "The Usha Scare Maneuver." With a runner on first base, a grounder is hit towards Usha near second. After she collects the ball, she attempts to tag the advancing runner for the out. However, Usha does not realize that the base runner is advancing quickly. With the base runner now a mere 8 feet away, Usha panics as she fear that she might be plowed over. This causes her to throw the ball at the runner and to cry out a loud shriek.
"It was a war cry reminiscent of Mel Gibson. It was memorable and terrifying at the same time!" said Katie Judd of RPG.
The base runner was undeterred and reached second safely, and perhaps a little dazed as well. RPG would go on to score 3 runs that inning to make it 9-3.
Continuing Action
In the top of the fifth inning, Coach A-WOL gives the team a call to check-up on how the game is progressing. Colby reports that the team is trailing 9-3, but is excited to report that she caught an infield pop-up. Perhaps the team was distracted by the call as the team went down in order for an uneventful inning. RPG would collect 3 runs in their half for make it 12-3 RPG.
Top of sixth Verdasys would threaten by loading the bases with three consecutive singles by Lijun, Usha and Elliott. Unfortunately, the team could not cash them in as Theo hits into a pop-up and Colby into a force-out to end the threat. RPG would collect another 3 runs to make it 15-3 RPG.
Verdasys would mount a rally in their final at-bats in the seventh. With one down Bergstein would get the excitement going with a single. His hit was followed by a single from Bhavani, her second of the game. Her hit was followed by a fielder's choice by Pete Vallieres to put runners on the corners with two outs. "Kung Fu" Lijun followed with an RBI single to drive in Bergstein. At this point, Kristine Sinitski enters the game to pitch-hit for Usha. She would not disappoint as she connects for an infield single to load the bases.
Next up is Elliott who would connect with a blooper hit into a gap in centerfield. But he would be denied the hit as a Racepoint Group centerfielder made a sprinting shoe-string grab of a ball to end the game.
And so despite a continuing difficult season, Verdasys managed to come-out and make RPG earn the 2010 title of "South Pod Supremacy" as Verdasys fell 15-4.
Editor's Note:Verdasys did not take any photos. Therefore none are available.
Post-Game Analysis
In an informal press conference later that evening, the team announced that Bergstein had pulled a hamstring running to first base during the game. His participation in Game 5 is uncertain.
The team also mentioned that after 5 years of coaching, today was the first game that Coach Wolan had ever missed as coach of a team. Over his 8 year co-ed softball career, it is his second. He had played in 34 consecutive games since his last absence from a game in 2006 with the Pittsfield Vets.
Big Bats
Eno: 4 for 5 with an RBI and one run scored
Lijun: 3 for 4 with an RBI.
Bhavani: 2 for 4.
Web Gems
Colby: Caught two pop flies.
Bergstein: snagged a hard liner at shortstop (unknown inning).
Team: 1-2-3 inning on outfield catches against the meat of RPG line-up by Ron, Theo and Eno.
RPG: sprinting shoe-string grab of a ball hit into center field by Eno to end the game.
A-WOL Watch:
Did not participate in Game 4, but participated in a double header with the 356er's. Team swept opponents, but did little to contribute.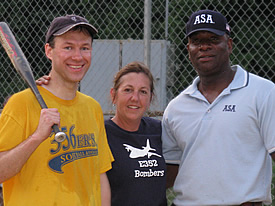 A-WOL, the ump and the pitcher smile for the camera after A-WOL misses a pitch. (Bhatia)
Game 1:
0 for 2 with a walk.
Started in RF but opponent only had one lefty, so he saw no action.
Game 2:

1 for 2 (double). In second inning, he swung at and completely missed the first pitch. Ump took photo with him and the pitcher after the pitch.
Fell on the field chasing after ball on a play at end of game.
A-WOL's new all-female fan club may be going to his head. Between innings, he was caught chatting with his fan club, when he was supposed to be on the field. Once he realized his mistake, A-WOL sprinted into his field position just in time for the start of play. The 356er's coach Howard commented, "That boy is crazy...but he sure do run fast."
After game, A-WOL managed to lock his keys in the car. Coach Howard of the 356ers made Andy run laps until AAA could come and unlock the car.
<!a href="../media/viewer/viewer.php?game=04" class="mwMore">Game Photos | Stats from the Game | Scorebook

Andy Wolan is a reporter and photographer for Verdasys Softball. This story was not subject to the approval of the league or its clubs.