Game 5: "You're Late"
Participation and tardiness issues plague team as they try to keep the season alive
By Andrew Wolan / WRCS
Game date: July 28, 2010
Score Box
| | | | | | | | | | | | |
| --- | --- | --- | --- | --- | --- | --- | --- | --- | --- | --- | --- |
| Thermo Fisher Scientific | X | X | X | X | X | X | X | | 9 | X | X |
| Verdasys | X | X | X | X | X | X | X | | 0 | X | X |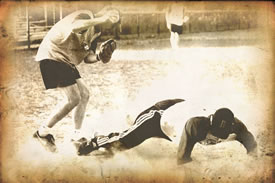 The controversial call at the plate from the "Good old days". (Moffitt / Whitehall)
Introduction
A trademark of past "Thermo Fisher vs Verdasys" contests has been the controversies. There always seems to be a play, a call, or a remark that would make the contest uneasy. Such past events include A-WOL's close play at the plate, or the comments made about Aleksey being Russian. But alas, those were the good old days!
The only controversy from today's game was whether Verdasys Softball could still pass off as a legitimate ball club. As has been the theme all season, roster and participation issues continue to haunt the club house, leaving Verdasys with a barely enough players to field a team. And by game time, a new issue of tardiness entered into play, compounding problems even more.
But ironically, the team had been in good shape for today' contest. So what happened?
Game Summary
A day before game time, the roster was looking good as the team had amassed a list of 11 people. This list included: Ryan G., Theo, Bhavani, Bergstein, Kristen Sinitski, Pete Vallieres, Ron Smith, Colby, Aleskey Kireyev, Naren Patel and Shelby, who was a last second recruit.
Notable absentees were Lijun Wang who was out on travel, Elliott Eno who had to sit out to rest an ankle injury suffered while practicing for the Primer Soccer League and Coach Wolan who was out on assignment with the 356er's ball club. Despite their absence, the roster was in the best shape it had been all season. In fact, the list was so impressive that Usha Shama, a stand-by player, was told that she could sit out this game if she so chose.
But on game day, the list would quickly erode as several players had to back out at the last minute:
Colby was forced to withdraw from the context so she could pick-up her sister at the airport. Apparently, her sister had boarded an earlier flight so she could arrive at Logan ahead of schedule but during game time.
Kristen Sinitski had to leave town to attend an undisclosed personal matter.
Naren's son caught a fever, forcing Naren to attend to his son and miss the game.
Their absence would cut the roster down to 8, leaving the team with just one woman player. It was clear that the services of Usha Shama would be in high demand. This fact did not go unnoticed by her agent who informed the team that Usha would sit out the game if the team was unwilling to renegotiate her contract.
Fortunately, things started to improve for the team about an hour before the game. Misha Efimov, who was initially reluctant in participating, agreed to play to help fill the vacancy left by Naren. And with about 15 minutes to game time, a deal was reached with Usha's agent. Their participation gave the team a healthy roster of ten people. It would appear that the team would play after all!
Conclusion
It's one thing to have a roster on paper. It's another thing to have that roster of people show-up on time at the ball field. At game time only 4 team members had checked in. Though the remaining players were trickling in, it was clear that even after the 10-minute waiting period, there wouldn't be enough players to start the game. And so by league rules, the Verdasys Softball team would have to forfeit.
Realizing this outcome, acting team manager Ryan Grimard discussed with the team skipper of Thermo Fisher to see if a forfeit could be avoided. Afer some negotiating, it was agreed that Thermo Fisher would accept a 9-0 win if Verdasys agreed to play a scrimmage game using just their players.
"Given our track record, we were probably going to win anyways" said the TF team skipper. "Since everyone was there, we might as well play some ball and have some fun."
To read about to the Scrimmage game, please click here.
Game 5s (Scrimmage) | <!a href="../media/viewer/viewer.php?game=05" class="mwMore">Game Photos | Stats from the Game | <!a href="../scorebooks/scorebook_05.jpg" class="mwMore">Scorebook

Andy Wolan is a reporter and photographer for Verdasys Softball. This story was not subject to the approval of the league or its clubs.