Game 5s: Scrimmage Game
Verdasys rallies back from a 13-4 deficit to nearly steal a win from jaws of defeat
By Andrew Wolan / WRCS
Game date: July 28, 2010
Score Box
| | | | | | | | | | | | |
| --- | --- | --- | --- | --- | --- | --- | --- | --- | --- | --- | --- |
| Thermo Fisher Scientific | 8 | 0 | 5 | 1 | 2 | 2 | 0 | | 18 | X | 0 |
| Verdasys | 1 | 3 | 0 | 3 | 1 | 5 | 4 | | 17 | 27 | 1 |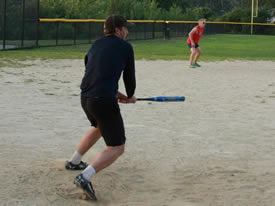 Theo connects for a bases loaded clearing double. (Efimov)
Introduction
With the Verdasys Softball team arriving late to the game, the club was looking at taking another forfeit. But after some negotiations, Thermo Fisher (TF) agreed to let Verdasys take a 9-0 loss instead. In exchange, Verdasys agreed to play TF in a non-binding scrimmage game.
Roster Round-up
Starting in today's game despite nagging preexisting injuries were Eno and Bergstein. Eno hurt his ankle while practicing for the Premier Soccer League, while Bergstein pulled a ham string running to first base in the previous softball game. Both players will have their running ability impacted in this game as a result.
Usha and Bhavani were the only women in attendance for the team. Usha started the game at catcher and was replaced by Bhavani in the fourth inning. Both shared the same spot in the batting line-up.
Scrimmage Game Summary
Thermo Fisher started the game off by opening with a big lead. They took advantage of a disorganized Verdasys defense, scoring 8 times in the process. Verdasys would get a run back in their half of the first after Usha hit into a fielder's choice, scoring Pete. 8-1 TF after one.
The Verdasys defense would shake-off the rusty first inning and keep TF off the board in the second. This gave the Verdasys offense an excellent opportunity to chip away at TF's lead.
Shelby, in his first at-bat since little league, got the bottom of the second going with a triple. He scored on an RBI single from Eno. Following a fielder's choice from Aleksey, Pete and Theo followed with a pair of RBI doubles. Altogether, the team scored 3 runs to cut Thermo Fishers lead in half, 8-4.
But Thermo Fisher would regroup in the third. Their offense would rally for 5 runs in their half of the inning, while their defense would limit the meat of Verdasys' batting line-up (Grimard, Smith and Misha) to a 1-2-3 inning. After 3, TF held a comfortable 13-4 lead. This would be the last time Verdasys would go down so quietly.
Meanwhile, Ryan's mobile phone is ringing. No one is there to answer it.
| | |
| --- | --- |
| C | Usha/Bhavani |
| 1B | Eno |
| 2B | Shelby |
| SS | Bergstein |
| 3B | Smith |
| FIF | Aleksey |
| LF | Grimard |
| CF | Theo |
| RF | Pete |
| FOF | Misha |
Top of the fourth, the Verdasys defense would calm down and regroup to limit TF to just a run. Their run production was limited thanks in part to a very emphatic play at the plate by Aleksey. With the bases loaded, the batter hit the ball into the shallow part of the infield. With a base runner attempting to score, Aleksey grabbed the ball and tagged the runner with his glove. However, the ball was not in Aleksey's glove. Realizing this wasn't an out, Aleksey took the ball and touched home plate with it before the runner could realize what had happened, netting the force out.
Verdasys would score 3 runs in their half of the fourth to cut TF's lead to 14-9. Pete hit a 2-RBI double to drive in Shelby and Aleksey. Pete would then score on an RBI triple by Theo.
A scary moment occurred in the top of the fifth inning. With Shelby playing second and Misha FOF, the two gave chase to a blooper hit into shallow center field and collide. Neither player called the ball so they both chased it till the end. Both players were ok.
TF would score 2 runs that inning while Verdasys scored a single run after Smith drove in Grimard who hit a lead-off triple. 16-8 after five.
After Thermo Fisher collected 2 runs in the sixth, Verdasys would rally to cut the lead into a manageable deficit.
Eno and Aleksey got the sixth going with a pair of lead off singles. Pete followed with a fielder's choice, erasing Aleksey. Eno advanced to third on the play. He was followed by Theo who connected for an RBI single, scoring Eno and advancing Pete to second.
Theo was followed by Bhavani who made contact with a grounder back to the mound. The FIF fielded the ball and tossed it to first, beating Bhavani to the bag. The sacrifice hit did advance Theo and Pete to second and third, respectively.
Next up was Ryan Grimard, who hit a fly ball to right field. The fielder lost the ball in the sun and was unable to catch it, dropping for a hit. Since there were already two outs, the base runners were running on the play. This allowed Pete and Theo to score with ease, while the play itself allowed Ryan enough time to circle the bases for a 3-run ITP.
While this is occurring, Ryan's mobile phone is ringing. No one is there to answer it.
But the Verdasys offense was not finished. Ron and Misha followed with singles to set the stage for Bergstein, who hit an RBI single into left field, scoring Ron. Unfortunately, that would be the end of the rally as Shelby hit a fly ball out to left field to end the inning.
After 6 innings of play, Verdasys had cut Thermo Fisher's lead down to 5, making the score 18-13.
If Verdasys was hoping for a come-back, then their hopes of such a fairytale ending were only reinforced in the top half of the seventh. Here, a perhaps bewildered TF team would fail to score as the Verdasys defense kept them off the board once again.
And so with the score 18-13 in the bottom half of the seventh, the team needed another 5 run rally to put the game into extra innings, or 6 to pull away with a win. The momentum had swung to Verdasys' favor and an upset was looking probable.
Eno, Aleksey and Pete got the inning going with lead off singles to load the bases. This set the stage for Theo, who connected with bases loaded, clearing double. Indeed, a rally was surely in the works.
In an attempt to run faster and hopefully outrun a force-out at first, Bhavani followed Usha Shama's suggestion to bat barefoot. In her at-bat she connected with a bloop-hit around home plate. The catcher fielded the ball and tossed it to first, narrowly beating Bhavani to the bag. Theo did advance to third on the sacrifice hit.
Bhavani was followed by Grimard, who connected with a fly ball into center field. A TF fielder was there to make the catch, but the ball was hit deep enough to allow Theo to score from third. With two down and the bases empty, Ron Smith tried to keep the game going but was unsuccessful as he ended the inning with a fly ball hit into left field.
And just like that, the rally Verdasys had been enjoying was over. When all was said and done, the team scored only 4 runs, one short of forcing a tie and causing the team to fall to Thermo Fisher, 18-17.
For a game that went down officially as a loss due to tardiness, one has to wonder if Verdasys could have actually won today's game had they showed up on time. We may never know. One thing that is known is that after the game, many players commented on how much fun it was to play the game.
Meanwhile, Ryan's mobile phone is ringing. Someone then puts it out of its misery by shutting it off.
Post Game Reaction
Though Coach was away, he did hold a teleconference meeting with the media.
(Q) What were your thoughts about how the roster played out today?
(Wolan) The way the roster collapsed right before game time was unusual. It was so unusual that for awhile, I had begun to think that the team was playing a joke on me, to make me think they had forfeited. Unfortunately, that was not the case.
(Q) Are you discouraged by how the season is playing out?
(Wolan) Well, I really don't care if we lose most of our games. All I ask is for people to come out and do their best. Who knows, maybe you'll make a cool play and have it mentioned in the game summary. I really don't care if people don't know how to play; I'll coach you. But we won't accomplish anything if we don't show up!
(Q) What do you plan to do differently for Game 6?
(Wolan) I won't be in the area for Game 6, so I'm going to talk with Mike Ditka and see if his wife can come on down and lead the team instead. I know for sure she won't accept tardiness and will make people run laps if they are late. Perhaps she can help keep this team in line so we don't keep embarrassing ourselves. Our remaining games are winnable, so I'm hoping we can actually put up an honest effort to win one before the season is over.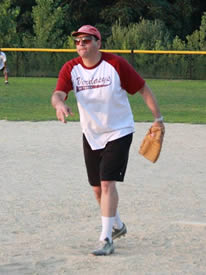 Bergstein is unlikely to play next week. (Efimov)
(Q) The season is obviously not going so well. What do you hope to accomplish by the end of this season?
(Wolan) Our goal at this point is to not forfeit any more games, so we can stay in the league and try again next season. That's all I can really hope for at this point.
(Q) Some of the players on the team looked hurt. Are they any injury updates to report? And what's up with Bergstein acting like Manny Ramirez?
(Wolan) As you know, Elliott has been battling an ankle injury the past few games. In fact, he was observed running on one leg in today's game. We hope that his injury will fully heal come playoffs.
Ron Smith ripped-up his hands pretty good with blisters during the game. Regardless, he still batted. I think his injury was a direct cause of the batting grip on one of the bats becoming too worn down.
As for Bergstein, some of you might have observed that he was taunted for not running out infield grounders, hobbling to first only after hitting a ball into the outfield. Obviously, his hamstring injury from last week is worse than expected. He is not likely to play in next week's game.
(Q) (Don) Andy, isn't this the second time in which the team negotiated itself out of a forfeit?
(Wolan) Shh! Not so loud. Someone may hear you.
Big Bats
Theo: 5 for 5 (2-2B, 3B) with 6 RBIs and 2 runs scored.
Pete: 4 for 5 (2-2B) with 3 RBIs and 5 runs scored.
Grimard: 3 for 4 (2B, 3B, ITP HR), with a SAC, 4 RBIs and 2 runs scored. Missed cycle by a single.
Web Gems
Aleksey: head-ups play at the plate: proper force-out of a runner at home plate, after applying an incorrect tag. (4th)
TF: double play converted by Thermo Fisher in the 5th.
A-WOL Watch:
Was away. Did not play.
Game 5 | Game Photos | Stats from the Game | Scorebook

Andy Wolan is a reporter and photographer for Verdasys Softball. This story was not subject to the approval of the league or its clubs.